Activism in the Arts: I've Got U Under My Skin: AIDS & Classical Music is an exhibition comprised of print scores, audio recordings, and an accompanying QR code listening list curated by Kevin Madill, Music Librarian, the University of British Columbia (UBC). Works exhibited were selected from the music collection of UBC's Library or borrowed from anonymous lenders. The exhibition runs from September 15, 2022, to January 15, 2023, in the foyer of the UBC Music Art and Architecture Library of the Irving K. Barber Learning Centre.
I grew up in small towns across rural Canada. I was living in a small town in Southern Ontario when I came across the first guy who got it. He was a Black kid. Nobody liked him. He was a loner. He was even estranged from his parents when he found out. Regardless, they agreed to take him in. They put him in a back room, cut a hole in the door, and fed him water and food through it. He died in that room, unable to get out of bed to feed himself, or go to the bathroom. He probably died in his feces of starvation before the worst kicked in. And that was just the beginning.
I've loved classical music since hearing Tchaikovsky's Waltz of the Flowers on Canadian Broadcasting Corporation radio at the tender age of 4. But where was that music during the years of pain, loss, and fear. Researching for this exhibition, I found blogs, concerts, and recordings marking the moment. But no exhibitions to draw attention to the numerous classical music scores dedicated to remembering. It's been nearly forty years. This can't really be the first exhibition to point to classical music and ask what it had to say about it all? Really?
What lies below is an opportunity. An opportunity for someone much younger to push off the summarization of ideas and samples I list. All for the purpose of building a better remembering. Something stronger. Something lasting. Something that refuses to give up and creep away when given the opportunity to forget.
Exhibition
One thing is certain with age: the accumulation of personal history. Some of it you may want to forget. Some of it you can't help but forget. And some of it you should never forget. For those of us old enough to have lived a part of our adult lives through the 1980s and 90s, the AIDS crisis falls into the latter category.
Projects determined not to let fade the history of the beginning of the AIDS pandemic include the book Let the Record Show: A Political History of ACT UP New York, 1987-1993 (Schulman, 2021); the archive HIV In My Day (University of Victoria, 2022) comprised of oral history interviews of British Columbian long-term HIV survivors and their caregivers; and the archive AIDS Activist History Project (Carleton University, n.d.) that provides open access to materials gathered from HIV/AIDS social movement organizers active across Canada in the 1980s and 1990s.
Joining such projects is I've Got U Under My Skin: AIDS & Classical Music, an exhibition of 26 scores and recordings carefully selected from an academic library's music collection and serving to make evident the complexities that characterized the classical music scene's response to the beginning of the AIDS pandemic. Various themes emerge and intersect through sound, score, and packaging: health education, community building, sense making, concretization of past events, and expression of loss.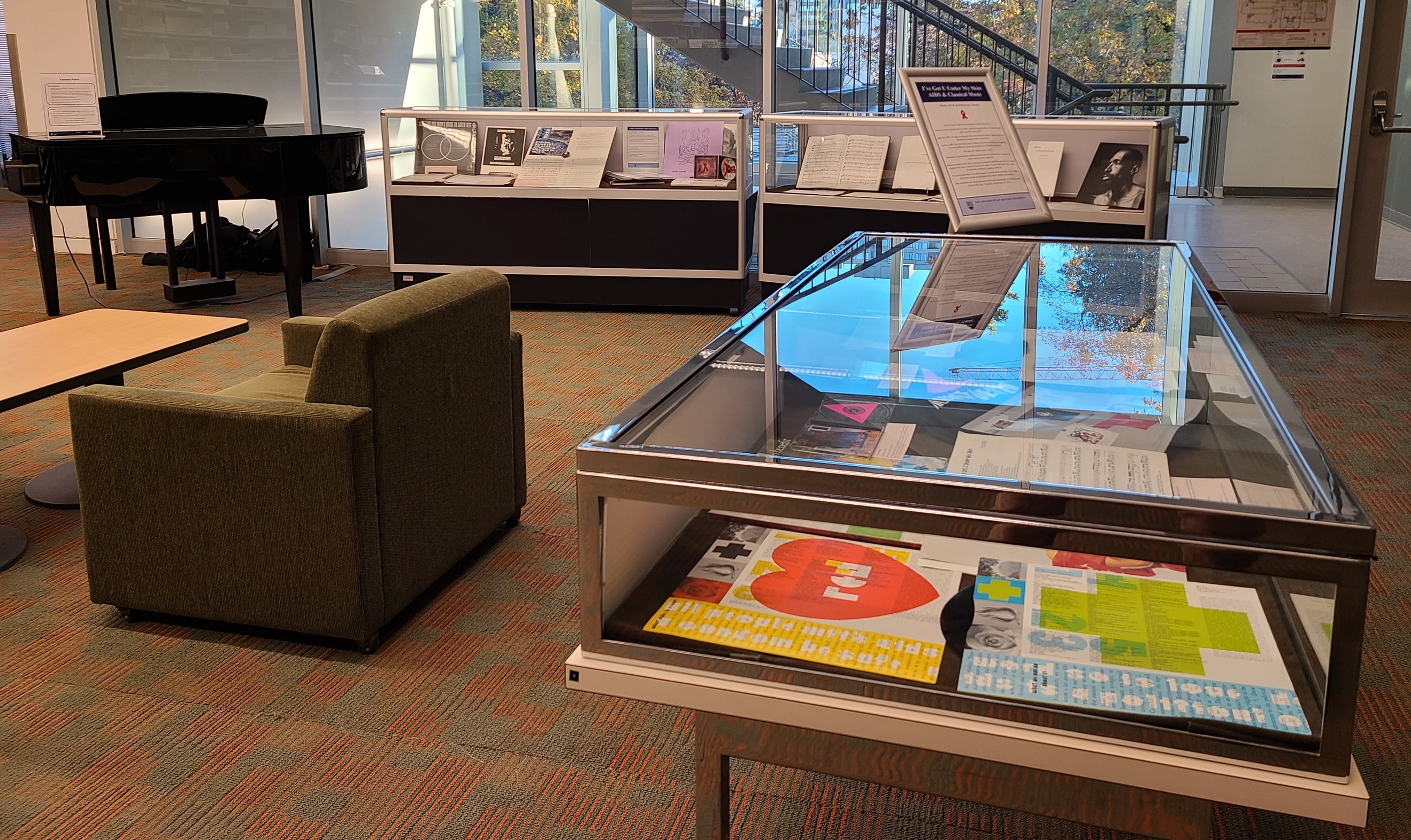 Taking centre stage in health education is the Chrysalis Records 1990 release Red Hot + Blue, a vinyl LP double album offering up contemporary pop musicians performing cover versions of Cole Porter songs. Proceeds from sales went to benefit AIDS research. The printed inner sleeves serve as a vehicle for health education, packed with information under headings such as "what aids is + isn't" and "what to do about it." In her adaptation of I've Got U Under My Skin (1990), Neneh Cherry combines pop, rap, and classical genres to exhort listeners to: "Wake up to reality." "Share your love. Don't share the needle." Cherry's message, when promoted as a single, reached a wide audience hitting number 25 on the UK charts (Official Charts Company, n.d.). Adjacent to Red Hot + Blue but coming from halfway round the world are the winning scores from the UNICEF Malawi funded 1991 and 1994 choral competitions. UNICEF Malawi is a non-governmental organization based in Lilongwe known for using dance and music to advocate for the rights of children and women (UNICEF Malawi, n.d.). Matthews Ezra Chadza's Women, Avoid AIDS (1991) and Yobbe Lungu's Care for the AIDS Patient (1994) bring the social practice of gathering to sing into the domain of practical health education tools.
The galvanizing role of communities during the early stages of the AIDS pandemic is documented in the exhibition through representation of communities that are less familiar. Arthur Russell's Instrumentals (2017) and Coil's Theme from the Gay Man's Guide to Safer Sex (1992) are selected from the underground and experimental music scenes of New York City and London respectively. The 1992 Gay Man's Guide to Safer Sex was an instructional documentary funded through Pride Video and the Terrence Higgins Trust, a British charity supporting services in sexual health. The video was updated in 1997 and is still in distribution. One exhibition vitrine is given over to the works of women composers: Pauline Oliveros, Meredith Monk, Janika Vandervelde, Janice Giteck, Annea Lockwood, and Laura Kaminsky. Vandervelde's Positive Women: Susan (1997) for narrator, female chorus, and violin bolsters the efforts of AIDS survivors to speak for themselves by setting to music Susan Gladstone's first-person narrative originally published in the 1992 alternative press paperback Positive Women: Voices of Women Living with AIDS (Rudd, Taylor).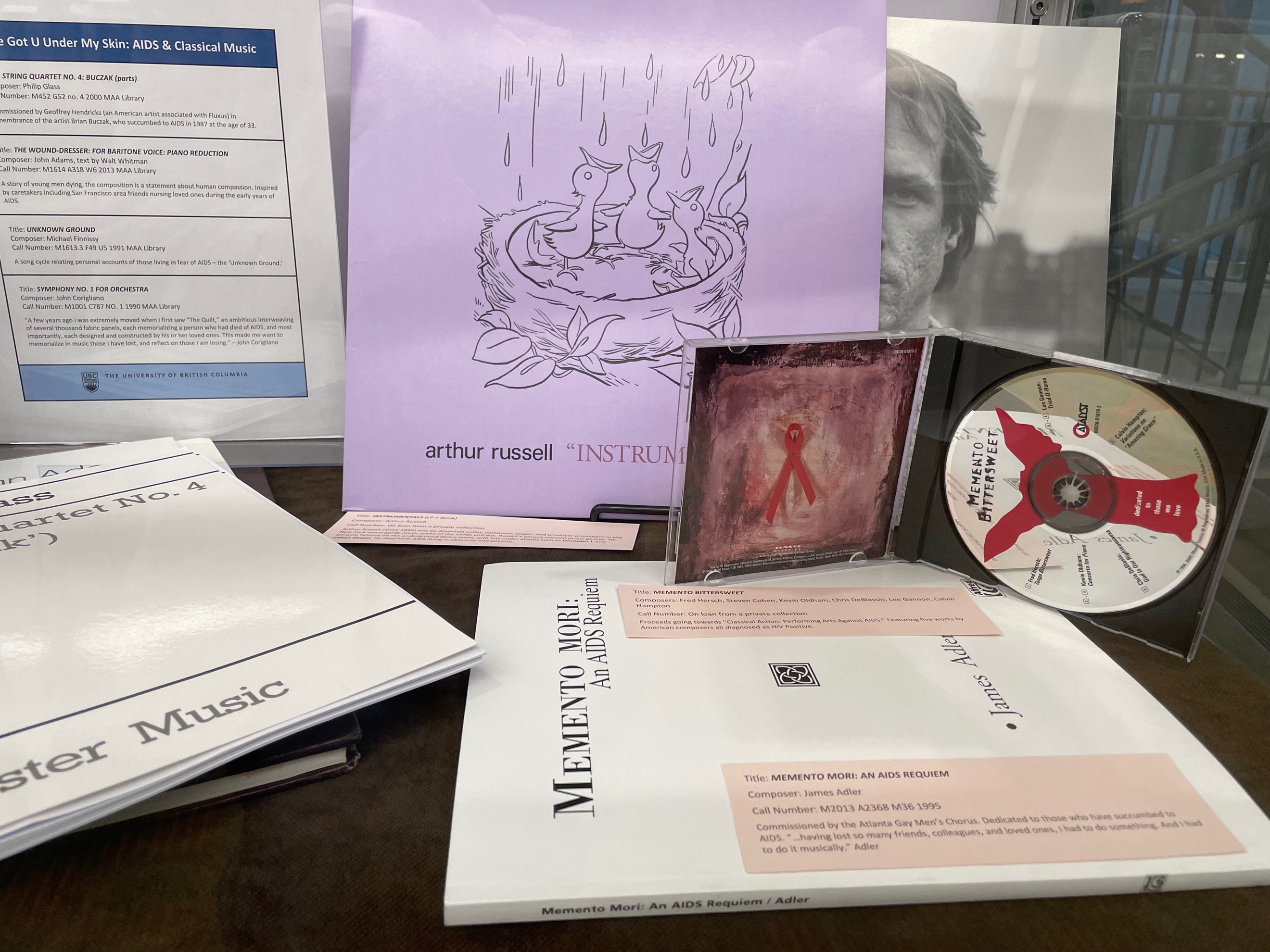 The early years of AIDS for some composers were just as confounding as they were terrifying. Theirs was a struggle with how to make sense of the moment. Neely Bruce in The plague (1991) for vocal quartet and electronics and Meredith Monk in Plague: for mixed voices (2014) turn to the past in a search for understanding. Parallels are drawn between the Bubonic Plague of the 14th century and its impact on Medieval Europe and AIDS and its impact on contemporary society. Monk builds a bridge to the past through musical style and content that allows her to conclude that "suffering, ignorance, and violence are constants throughout history as are joy, compassion, and love" (Jowitt, 1997, p. 156). The 2017 performance of Monk's Plague by the Young People's Chorus of New York City is a testament to the ability of youth from one generation to achieve an empathetic and sensitive reading of a defining moment that shaped another.
Classical musicians varied in how they chose to capture that turbulent moment and concretize it in their music. Bob Ostertag captures historical immediacy in All the Rage (1993), an experimental album with the Kronos Quartet, by including recorded sound from the 1991 AB101 Veto Riot, San Francisco, an action incited by California governor Pete Wilson's proscription of pro-gay legislation. Robert Maggio in Winter Toccata: I Can't Believe You Want To Die (1996) for solo cello riffs off of Larry Kramer's 1989 Reports From the Holocaust: The Making Of An AIDS Activist. Maggio turns the cello line into Kramer's voice "imitating the driving rhythms of this writing, creating melodies out of favourite sentences" (Maggio, n.d.). Following a request to composer Lyle Chan for a physical copy of his score String Quartet: An AIDS Activist's Memoir (L. Chan, personal correspondence, May 31, 2022), Chan generously included notes on how he embedded into the composition his experiences as an AIDS activist in NYC during the peak of the AIDS crisis. An excerpt from the score shows Chan's translation of ACT UP's signature chant "ACT UP Fight Back Fight AIDS!" into music. And there can be no better example of closeness to the moment than Robert Savage's AIDS Ward Scherzo (1992) written by the composer while on his hospital bed.
Cultural expressions of loss abound across artistic movements, genres, and formats. The early years of AIDS are no exception. For Richard by Annea Lockwood was the composer's contribution to the AIDS Quilt Songbook (1993) itself dedicated to baritone William Parker who initiated and brought the songbook project to life. String Quartet No. 4 "Buczak" (2000) was commissioned from composer Philip Glass by Geoffrey Hendricks in remembrance of fellow artist, Brian Buczak. Janice Giteck's Om Shanti: To People Living with AIDS (2019) was commissioned by the Institute for Movement Therapy in Seattle after the loss of the Institute's Director, Peter Guiler.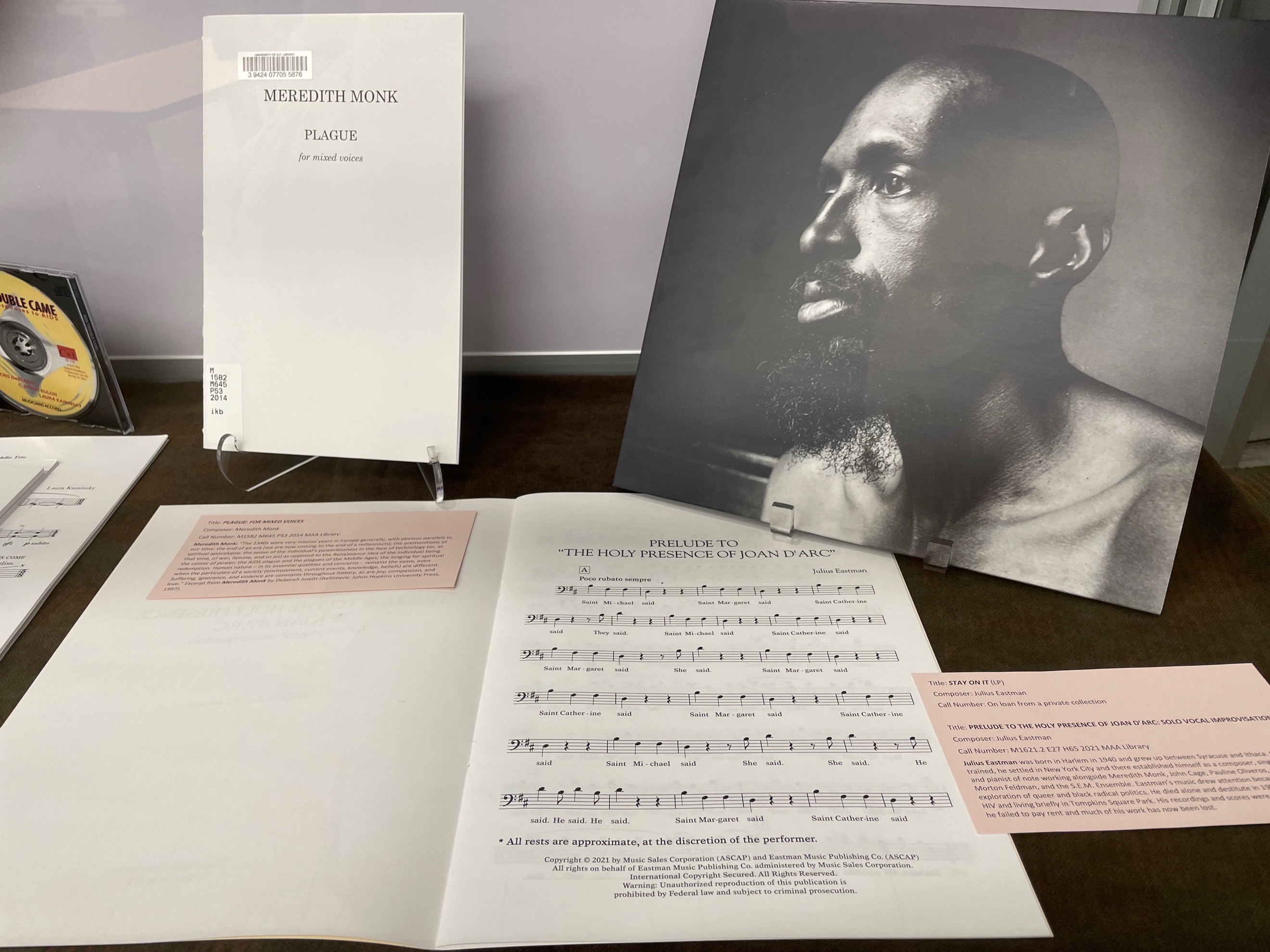 Remembering is the antithesis of forgetting. Physical objects such as the scores and recordings presented are powerful motivators for the act of remembering. But what of the objects and their own histories? Not all objects of interest survive to fulfill their role in motivating remembering. Julius Eastman, whose music explores queer and Black radical politics, is represented in the exhibition with the LP Stay On It (2022) and the score Prelude to the Holy Presence of Joan d'Arc: Solo vocal improvisation (2021). Eastman died alone and destitute in 1990, living briefly in Tompkins Square Park. His recordings and scores were confiscated when he failed to pay rent and much of his work is now lost. The New York Public Library took action during the early years of the AIDS pandemic to save what it could from the studios of NYC artists and composers lost to AIDS. Materials gathered now lie in an extensive institutional archival fonds (New York Public Library, Archives & Manuscripts, n.d.). Not all of the creators' estates, however, have agreed to allow the Library to make the work public. Without documentation, works are lost. Without permission, works such as those of Robert Savage can't be accessioned into any library and must remain unpublished, hidden, and forgotten.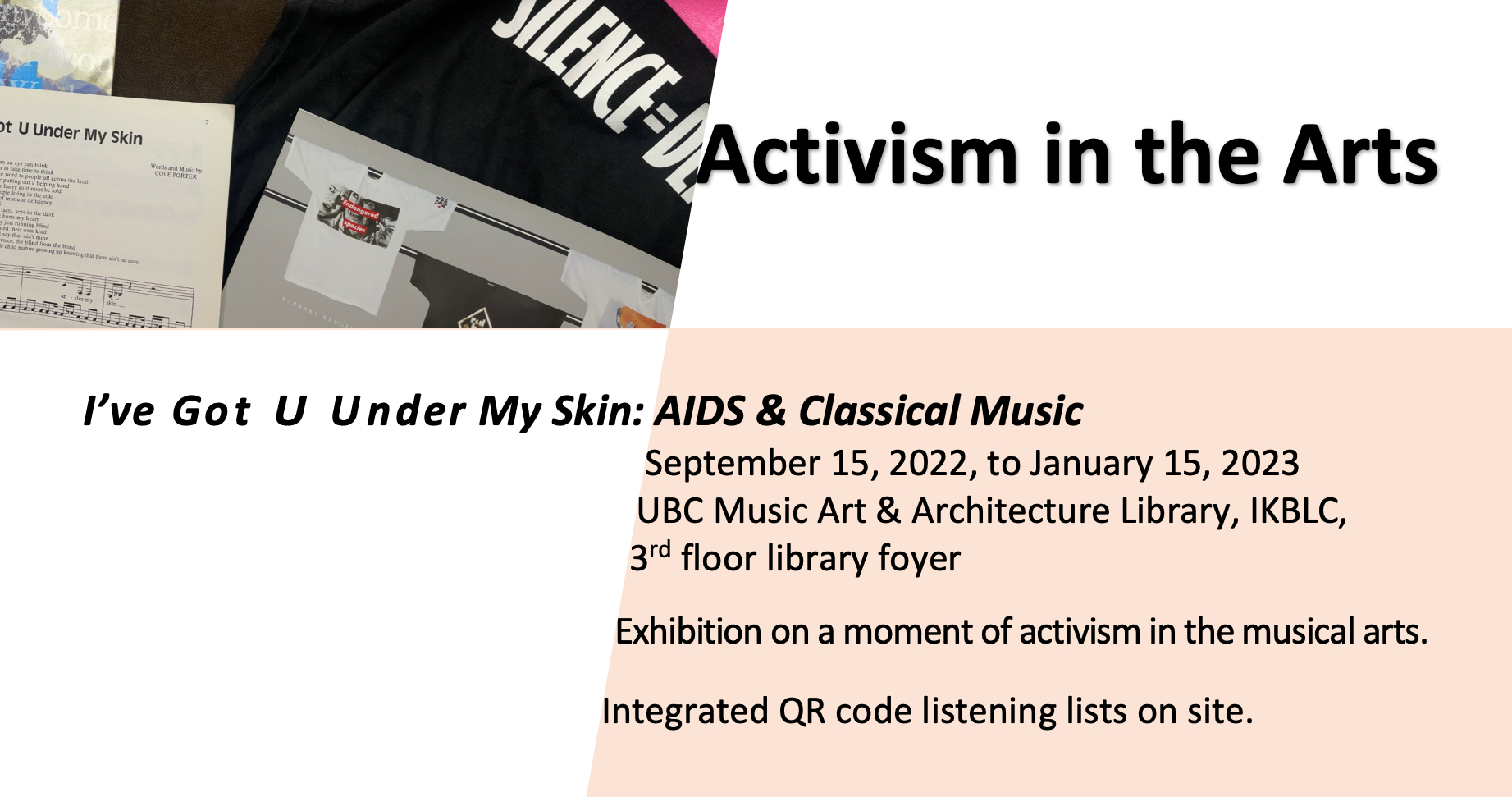 Photo credits © Kevin Madill, Robert Ablenas
About the Author / Kevin Madill is Music Librarian at the University of British Columbia (UBC). Previous positions include administrator, manager, and liaison/collections librarian in academic and special libraries in the United States and Canada including the Museum of Modern Art, New York, and Pratt Institute, Brooklyn. He has served as Adjunct Faculty with the UBC Master of Library and Information Studies program where he taught collection development. He holds a Master of Library and Information Studies from UBC, a BMus (Honors, Theory and Composition) from Western University, and an MFA and BFA from UBC. Kevin's creative work explores the interconnectedness of modernity, sexual identity, and portraiture. His artworks are held by several museums in the Pacific North West and available for online viewing through the solo exhibition Vancouver Modern: on the limits of portraiture.
WORKS CITED
Archives
Carleton University (n.d.). AIDS Activist History Project. https://aidsactivisthistory.ca/
New York Public Library, Archives & Manuscripts (n.d.). Estate Project for Artists with AIDS records 1989-1999. https://archives.nypl.org/mss/4798#overview
New York Public Library, Archives & Manuscripts (n.d.). Robert Savage collection 1975-1994. https://archives.nypl.org/mus/22312
University of Victoria (2022). HIV In My Day. https://vault.library.uvic.ca/collections/d4feeba5-d1bd-4b4c-b950-602bf93a523d
Monographs
Jowitt, D. (1997). Meredith Monk. Johns Hopkins University Press.
Kramer, L. (1994). Reports from the holocaust : the story of an AIDS activist / Larry Kramer ; [foreword by Simon Watney]. (Updated and expanded.). St. Martin's Press.
Rudd, A., Taylor, D. (1992). Positive Women: Voices of Women Living with AIDS. Sumach Press.
Schulman, S. (2021). Let the record show: A political history of ACT UP New York, 1987-1993 (First ed.). Farrar, Straus and Giroux.
Recordings
Bruce, N., McClure, M., Whitman, W., Electric Phoenix (Musical group) (1991). Eight ghosts: The dream of the other dreamers ; The plague [Compact disc]. Mode Records.
Eastman, J. (2022). Stay on it [Album]. Week-End Records.
Ostertag, B., Miles, S., Gupton, E., Kronos Quartet (1993). All the rage [Compact disc]. Elektra Nonesuch.
Porter, C., Cherry, N., O'Connor, S., Keïta, S., Harry, D., Pop, I., MacColl, K., Byrne, D., Waits, T., Lennox, A., Lang, k d, Stansfield, L., Somerville, J., Watley, J. (1990). Red, hot & blue [2 Albums]. London: Chrysalis.
Russell, A. (2017). Instrumentals (Reissued) [2 Albums + Book]. Audika Records.
Wustenburg, R. (2015, May 3). For Richard (Annea Lockwood) [Streaming audio]. SoundCloud. https://soundcloud.com/russell-wustenberg/03-for-richard
Scores
Chadza, M., Siabu, M., Phiri, K. (1992). Three choral compositions on AIDS prevention [Musical score]. Zomba, Malawi : Choral Workshop Publications.
Eastman, J. (2021). Prelude to the holy presence of Joan d'Arc: For solo vocal improvisation [Musical score]. Music Sales Corporation.
Giteck, J., Śaṅkarācārya A. (2019). Om shanti: To people living with AIDS : Soprano, flute, B♭ clarinet, violin, cello, percussion, piano, synthesizer [Musical score]. Frog Peak Music.
Glass, P. (2000). String quartet no. 4: Buczak [Musical score]. Chester Music.
Lungu, Y. (1994). Four choral compositions on AIDS prevention and care, child spacing, and benefits of vaccinating children [Musical score]. Zomba, Malawi : Choral Workshop Publications.
Maggio, R. (1996). Winter toccata: (I can't believe you want to die) : Solo cello [Musical score]. T. Presser.
Monk, M. (2014). Plague: For mixed voices (Second printing: March 2014. ed.) [Musical score]. Boosey & Hawkes.
Parker, W., Wheelock, D., Hersch, F., Musto, J., Rorem, N., DeBlasio, C., Krakauer, D., Lockwood, A., St. Pierre, D., Bolcom, W., Thomas, R. P., Harbison, J., Byron, C., Hoiby, L., Brown, E., Gordon, R. I., Wilson, R., Larsen, L., & Houtz, S. (1993). The AIDS quilt songbook [Musical score]. Boosey & Hawkes.
Porter, C., & Day, R. (1991). Red hot + blue [Musical score]. Warner Chappell Music.
Savage, R. (1992). Aids Ward Scherzo [Musical score]. This work is unavailable for legal reasons.
Vandervelde, J., Gladstone, S. (1997). Positive Women, Susan [Musical score]. Earthsongs.
Videos
Acacia Quartet (2020, August 12). "In September the Light Changes" from "String Quartet: An Aids Activist's Memoir in Music" (Lyle Chan) [Video]. YouTube. https://youtu.be/wsEczJNQXbg?list=OLAK5uy_ke4ECck4q6h71NNz0oijXiWB6w6TBbsHY
Concertgebouworkest (2022, September 24). Nutcracker suite op.71a Flower Waltz (Pyotr Ilyich Tchaikovsky) [Video]. YouTube. https://youtu.be/Zp1aDnVySf8
Curtis Institute of Music (2020, April 27). Prelude to the Holy Presence of Joan d'Arc (Julius Eastman) [Video]. YouTube. https://youtu.be/rOENQb5Tz38
John Koen (2020, April 3). Winter Toccata (I can't believe you want to die) : I. Lamenting and Raging (Robert Maggio) [Video]. YouTube. https://youtu.be/pWfinNzwPdo
Kronos Quartet (2017, July 21). String Quartet No. 4 (Buczak) : III. (Philip Glass) [Video]. YouTube. https://youtu.be/XkQA1kPtoLo
McBride, S. (1992). Gay Men's Guide to Safer Sex (Remastered 2019) [Video]. Internet Archive. https://archive.org/details/Gay_Mans_Guide_2019_Remaster
NAXOS of America (2014, September 26). Positive Women: Susan (Janika Vandevelde) [Video]. YouTube. https://youtu.be/KgNMY7zIKNU
The Orchard Enterprises (2015, February 21). AIDS Ward Scherzo (Robert Savage) [Video]. YouTube. https://youtu.be/mZzSEX2fBBA
Young People's Chorus of New York City (2017, October 21). "Plague" from Meredith Monk's "Dancing Voices" with Young People's Chorus of New York City (Meredith Monk) [Video]. YouTube. https://youtu.be/vlaI4pcym0k
Zoppo9999 (2009, November 29). I've Got You Under My Skin (Neneh Cherry) [Video]. YouTube. https://youtu.be/29J2B2FIgt0
Websites
Maggio. R. (n.d.). Robert Maggio | composer and collaborator | Winter Toccata (I can't believe you want to die) – 1993. https://www.robertmaggio.com/composition/winter-toccata-i-cant-believe-you-want-to-die/
Neneh Cherry | Full Official Chart History | Official Charts Company (n.d.). https://www.officialcharts.com/artist/25198/neneh-cherry/
UNICEF Malawi (n.d.). Music in Africa | UNICEF Malawi | Bio. https://www.musicinafrica.net/directory/unicef-malawi
Managing editor for this contribution: Laura Bisaillon