Being Borrowed: On Egyptian Migration to the Gulf is a creative, collaborative exhibition about the experiences of Egyptians living in the Gulf region, an underrepresented and understudied area of inquiry. Through their creations, contributing artists explored themes such as social class, aspiration, family dynamics, belonging, stability, and death, with a special focus on the temporary nature of human migration. Led by Farah Hallaba and curated by Farida Youssef, the exhibition took place from October 2 to October 31, 2022 at the Contemporary Image Collective gallery in downtown Cairo [fig. 1]. The show attracted thousands of visitors.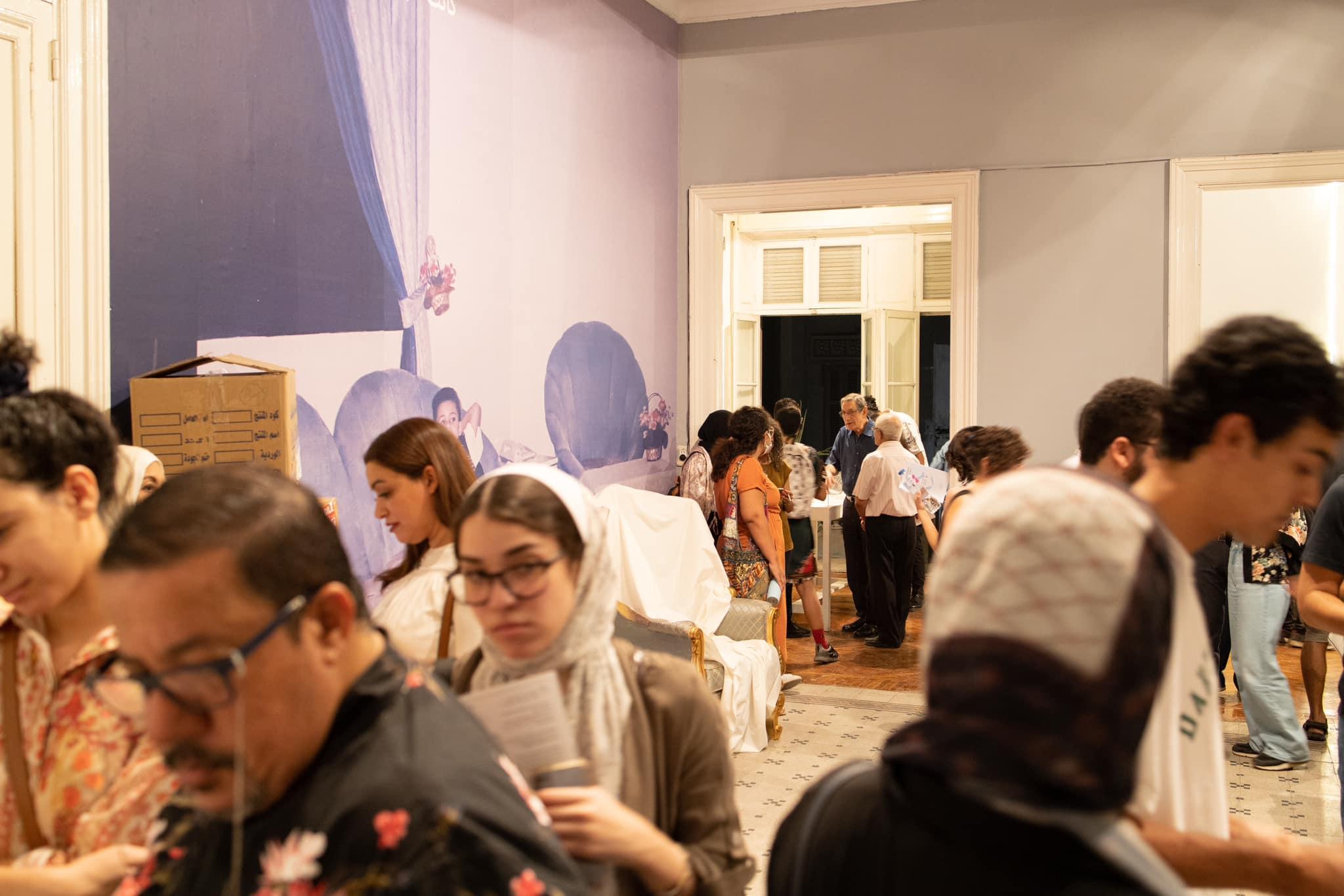 There are millions of us: Egyptians who grew up in the Arab Gulf. Some of us were born there, but could not go back to the region. Permanent residency was a legal impossibility, organized by temporary visa statuses, work contracts, and the inability to obtain citizenship, which makes the return to one's home country not a decision, but an inevitable fate. But what is a home country if one has spent the majority of one's life in another country? Although most of our parents had intended to stay in the Gulf for a couple of years to get a financial head start, they ended up staying for many decades, living in a liminal condition, and preparing for their return to the economically-crippled Egypt. Our relationship with these places was a complex set of chronologies and cycles: deferred homes, conspicuous and antithetical here-and-now consumption, and what-could-have-been.
For the first fifteen years of my life, I lived in Saudi Arabia, the largest of the Gulf countries [fig. 2]. I spent my summers in Egypt. Life in the Gulf region was temporary and segregated. My international private school and residential compound did not include Saudis. The fact is: I lived in a country for fifteen years without the opportunity to know its nationals personally. My parents knew Saudis in the hospitals where they worked, but I only saw them in markets and shopping malls. Most of us returned to Egypt to complete post-secondary education or immigrate to the West. We missed out on what might have been the opportunity to socialize with nationals of Gulf countries rather than with other expats like us who happened to live in the Gulf.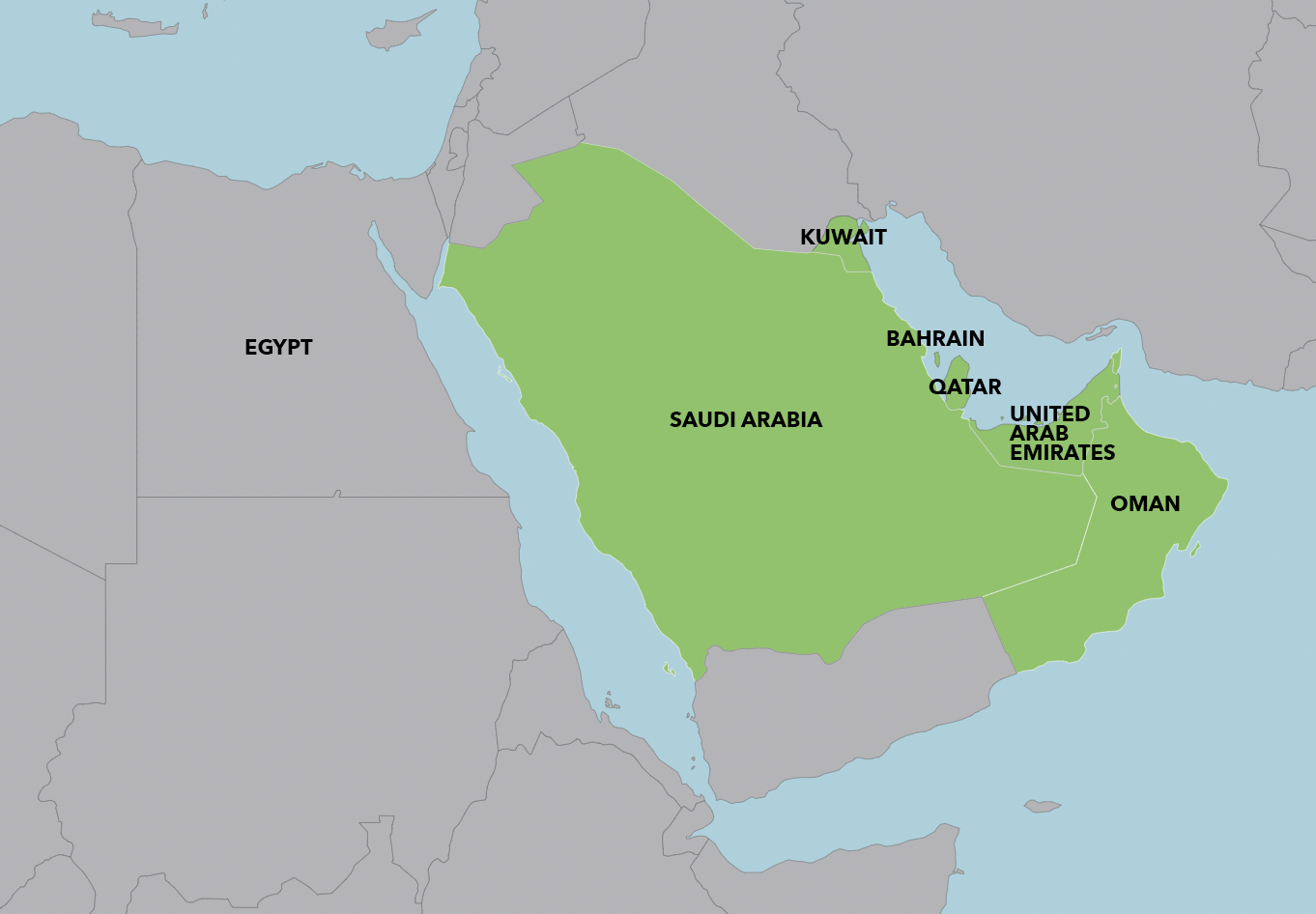 From Workshop to Exhibition
In early 2022, I learned about a call to take part in the workshop called "Being Borrowed: On Egyptian Migration to the Gulf," initiated by visual anthropologist Farah Hallaba through her platform Anthropology Bel3araby ('Anthropology in Arabic'). From February to April 2022, workshop participants convened as two groups, one meeting in Anthropology Bel3araby's studio space in Garden City, downtown Cairo, and the other online. Both groups were led by Hallaba. It was a unique experience. For the first time, I was among a large group of fellow Egyptians with some relation to the Gulf. In Egypt, it is quite easy for us 'Gulf Kids' to identify each other. Our Egyptian dialects are not accented per se, but we mispronounce some words or misunderstand cultural references including jokes. Remarkably, we have the ability to understand most other Arab dialects.
During the workshop, my colleagues and I discussed our experiences in the Gulf region not with nostalgia, but with criticality and inquisitiveness. We spoke in Arabic, occasionally and self-consciously using English words we could not readily find Arabic alternatives for (because most of us were educated in international schools where English was the primary language of instruction). We were tasked with making sense of lived experiences in the Gulf, of remembering, of reading academic texts, and of re-examining pop culture auto-ethnographically. Together, we created an archive consisting of scanned photographs, letters, and cassette tapes recorded by our parents and sent to their families back home—remnants and evidence of times before the personal computer.
In the end, after months of weekly meetings, Hallaba suggested that we materialize our ideas and stories into a group exhibition. The show was the first of its kind in Egypt to spotlight the lives of Egyptians in the Gulf, and Hallaba and contributing artists funded the exhibition collectively.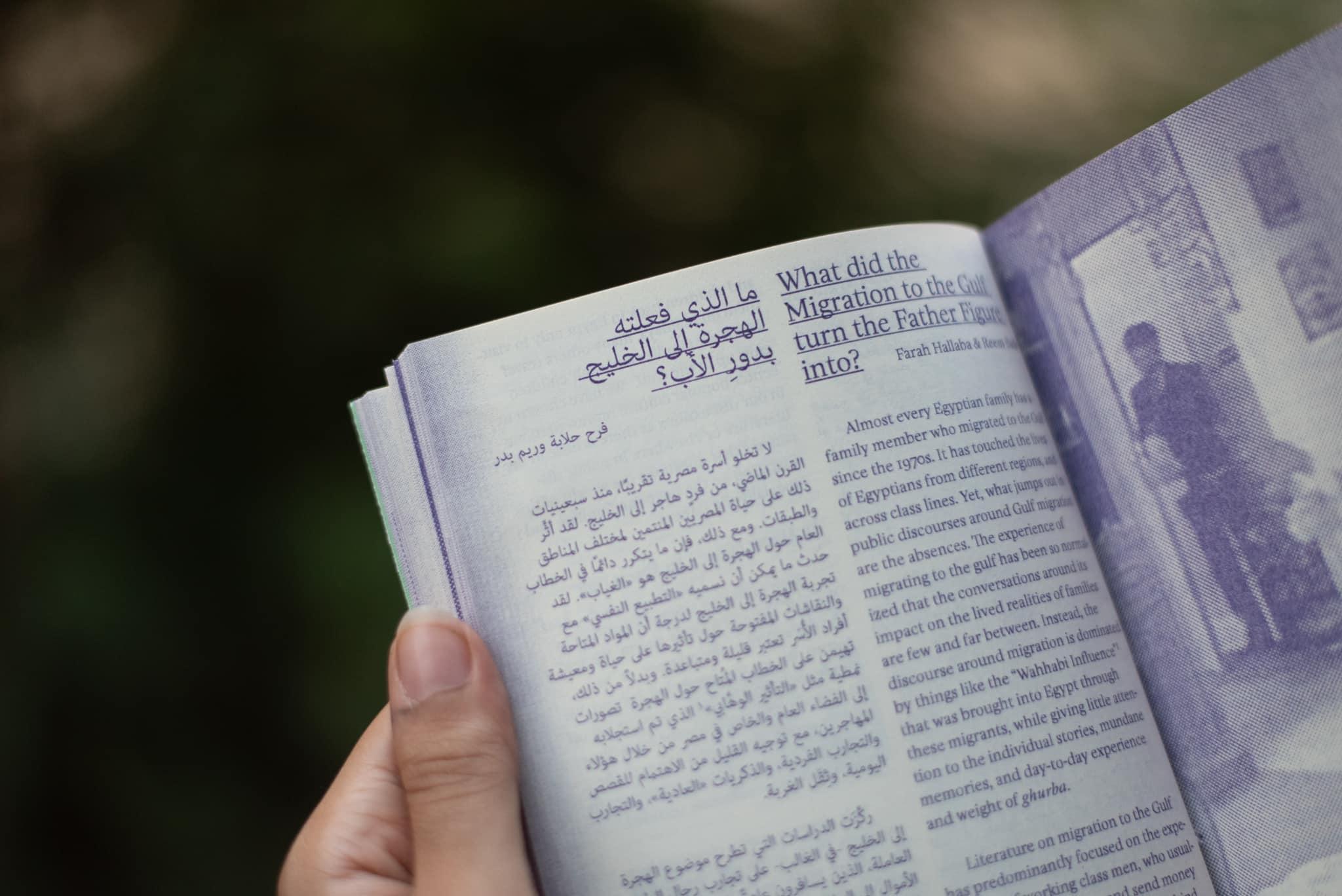 Hallaba, who holds an MA in social anthropology and visual ethnography from the University of Kent, UK, spent the first 18 years of her life in Saudi Arabia. In the exhibition booklet [fig. 3], she explains that the workshop,
started out of a feeling of empathy and helplessness towards my father who, until today, is still in the Gulf. He doesn't have the luxury to come back to Egypt due to all the financial commitments, yet his life in the Gulf is doomed to end anyway—since it is 'temporary' by default … There is something profoundly disturbed in our sense of time and temporality when we migrate to the Gulf, or when a family member does. Our futures never arrive, our present is on hold, and our past has no space. It is a dysfunctional temporality. Our parents travel to a future they aspire to, but they never arrive. Their lives in most cases are deferred, just like my Dad's.
Cairo-based art critic Farida Youssef curated the exhibition to showcase Egyptians' temporary life in the Gulf and invite audiences to experience what living and being in the Gulf is like. In her view, "the Gulf is not only a gulf, but a gap." Spatially, on entering the gallery, one is faced with a corridor (a liminal space par excellence) and a large sign that says "YOU ARE HERE TEMPORARILY." This statement is meant to refer to one's time inside the gallery and one's time in this life; traces of the temporariness of migrant life in the Gulf region. The corridor is a space designed to be passed through, but this assertion forces one to stand suspended, deferring entrance into the formal rooms of the gallery.
Youssef worked closely with Hallaba and all participants, some of whom were new to the art world and art practice, honing their ideas and encouraging them. In our one-to-one meetings, Youssef was a guide and a mentor in addition to being the exhibition curator. Through her vision, described below, she gave the show a unifying narrative and flow.
Conversation
Through our email exchanges, Youssef and I talked about her curatorial decisions, the distinctiveness of "Being Borrowed: On Egyptian Migration to the Gulf," and the contemporary art scene in Cairo more generally.
Lina: What is the exhibition about? What ideas and issues does it address? What makes the experience of Egyptian migration to the Gulf unique?

Farida: This exhibition addresses the phenomenon of Egyptian migration to the Gulf, which began in the 1960s and goes on until today. There were two issues I wanted to develop in the exhibition. On the one hand, the relationship between time and migration. On the other hand, the importance of a critical or questioning stance. While the topic has been studied from a socio-economic perspective, it hasn't yet been ethnographically studied. This was Farah's [Hallaba] critical and brilliant idea, to look at this phenomenon as an experience.

The markers of that experience are its temporal nature. Rather than focusing on this migration as a change of places, the workshop and the exhibition took seriously the fact that it was temporal migration. Egyptians who leave for the Gulf do so with the intent of coming back. The exhibition built on that point to see how the fact of living temporarily in a new place affects us: "What is temporal living?" With regards to the second aim, it addresses the understudied and under-represented side of this phenomenon. Part of what makes Egyptian migration to the Gulf understudied is its normalization. That's why the Gulf is a gap, as if there is a gap in our knowledge about migration to it. To challenge that, I wanted the exhibition to ask questions and to do so clearly in order to prevent the audience from normalizing what they see.

L: How did you materialize the idea of temporary migration into the design of the exhibition?

F: Farah Hallaba's workshop looked at what being in the Gulf was like, and how that experience shaped people. For the exhibition, I wanted to reproduce rather than explain or describe it to the audience. This meant, quite literally, that I mapped that experience into the exhibition space [fig. 4]. I called that term 'Being in the Gallery'. This is based on a reading of the existentialist philosopher Martin Heidegger's 'being-in-the-world'. For the German philosopher, living is conditioned by an emphatic sense of being, meaning that you have a consciousness or heightened perception of your place in that world.

To create that heightened perception, I reproduced the participants' 'Being in the Gulf'. Most, if not all, went to the Gulf as children and returned as young adults to enter university. These two life events gave me the starting point and the ending of the 'Being in the Gallery' experience.

The first project deals with Nourhan's childhood, and the last is Mariam's guide to 'leaving the Gulf'. In between them, my task was to invite people into that experience, not as passive observers, but as if they'd lived it. So, the interactive projects emphasized this. Then there was an entire room on breaking stereotypes of the Gulf, again encouraging the audience to see this 'Being in the Gulf' through the eyes of those who'd been in it. We finally end with a room where we are actually entering the homes of these migrants, where both 'Being in the Gulf' and 'Being in the Gallery' coincide.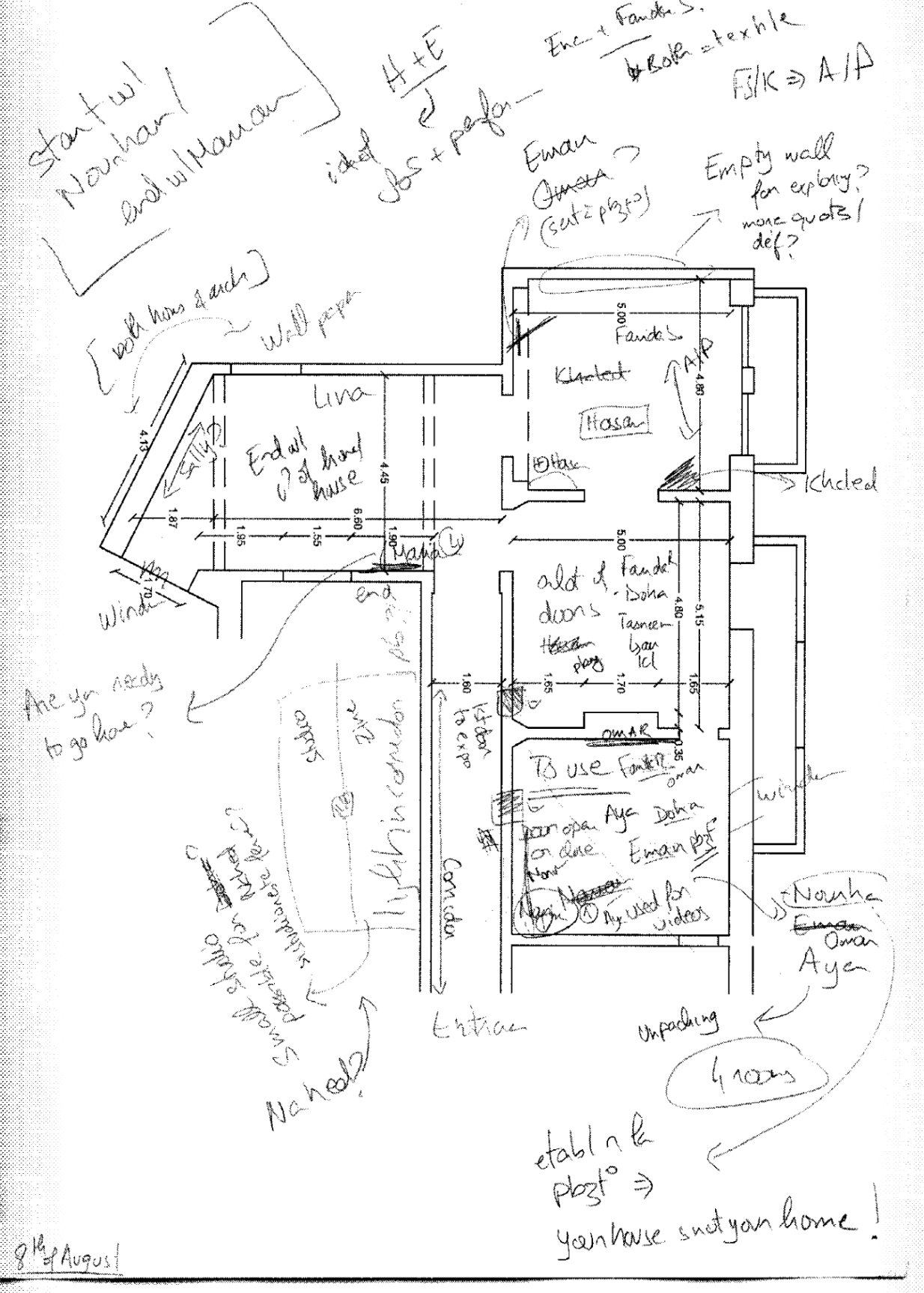 L: What first drew you to the initial idea of the exhibition? How is it different from previous exhibitions that have been organized in Egypt?

F: I was curious to work on something that touched, touches and will continue to touch many people in Egypt. This migration experience exists in one way or another for many. Either you've been through it or know someone who has. This really influenced how I approached the topic. I wanted the exhibition to be inviting, accessible and thought-provoking to as many people as possible. That means, not only was it organised for the artists/art scene, but more importantly for those who lived that experience but were not used to seeing knowledge production in an exhibition format. I was extremely excited when I saw them engage with the projects.

L: You were born in Brussels, Belgium, to diplomat parents, and have lived in several countries across the globe. How do you think growing up and living in different countries across the world affected your life and understanding of the "temporary" migrant experience?

F: I had the chance to live in different countries growing up, knowing very well that in each, my time there was a temporary one. It was only on the day of the opening that I realised that there was something in common! That being said, this moving around can't really be defined as a migration. Part of the temporality that the exhibition discussed was also a feeling of mixed belonging. Their temporary migration conditioned their belonging into "being borrowed". I think that this is a very particular and important aspect that my moving around cannot claim.

L: How did you find the experience of working with participants who do not necessarily have artistic backgrounds? Was this a challenge or an opportunity?

F: I was very lucky to be working with more than 15 participants, it meant I made new friends! That being said, I did not see this endeavour as being composed of separate projects. To me, they contributions were parts of a single project, a single story. I found my task to be in weaving them together in a thread so that each project is clearly connected to the others. Whether or not the participants were artists is not something I considered a challenge because in the end we were all preparing for this single project.

L: How was the exhibition received? Can you talk about one or two particular projects that seemed to particularly captivate the audience?

F: We are extremely grateful for how well received the exhibition was. There was a guestbook at the end which people used to reflect on their experience of the projects. In it, many spoke about how well they could relate to the participants' experiences. There was one project that many focused on, Sally's "Resting There," which deals with the topic of death and temporary migration. [Sally's project was about the house her dad built in Egypt but which he never got to live in since he passed away in Kuwait. This particular project caused several visitors to shed tears.] I had placed it just after Lina's "Deferred Homes" [fig. 5], which explores the idea of a house that never really becomes a home, hence its deferral. Sally amplifies this deferral by invoking death. As if by seeing both together, we are asking 'to what end is the deferral?' I think that placing them together really made people notice that death was not just an event, but something critical.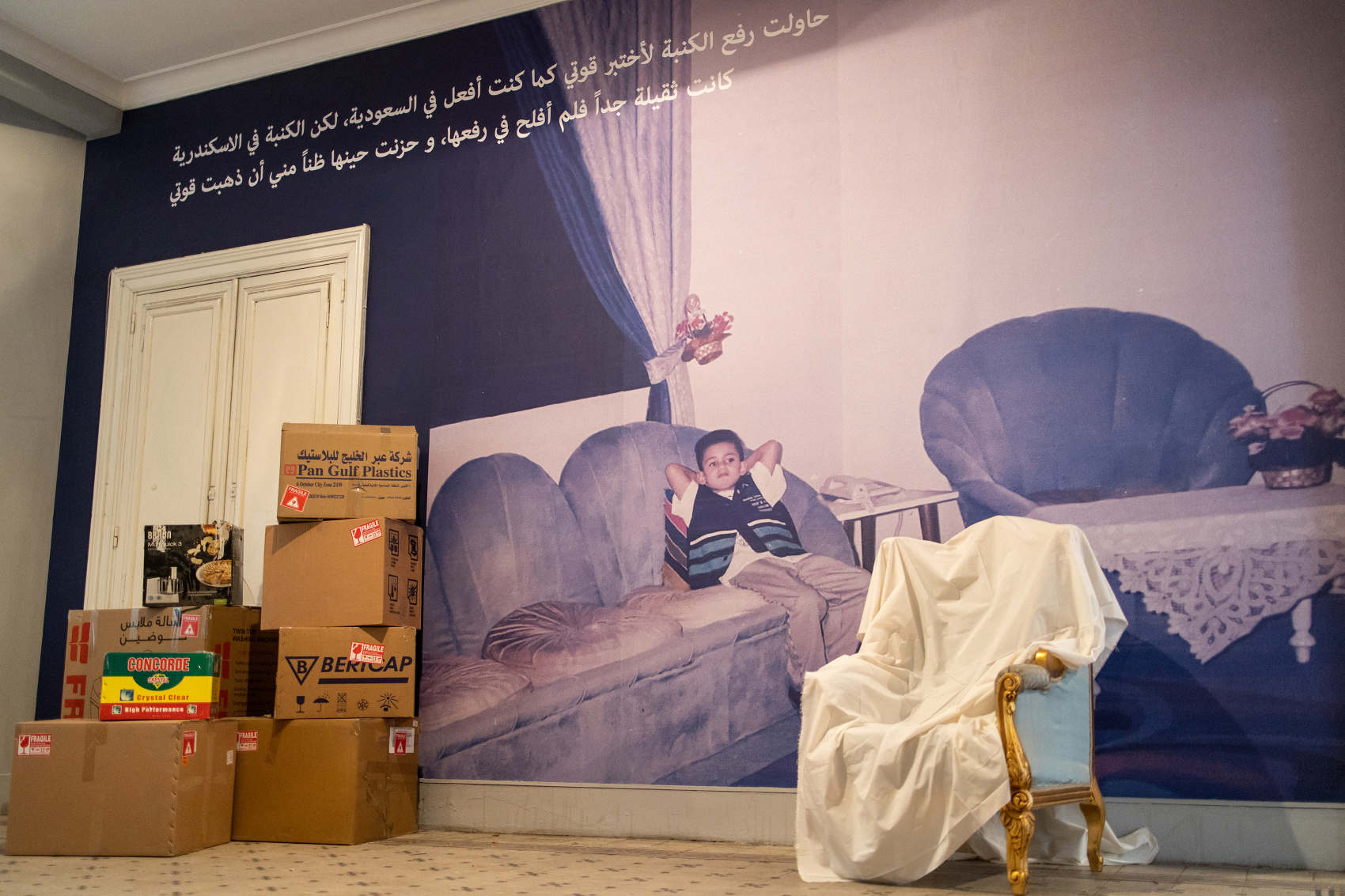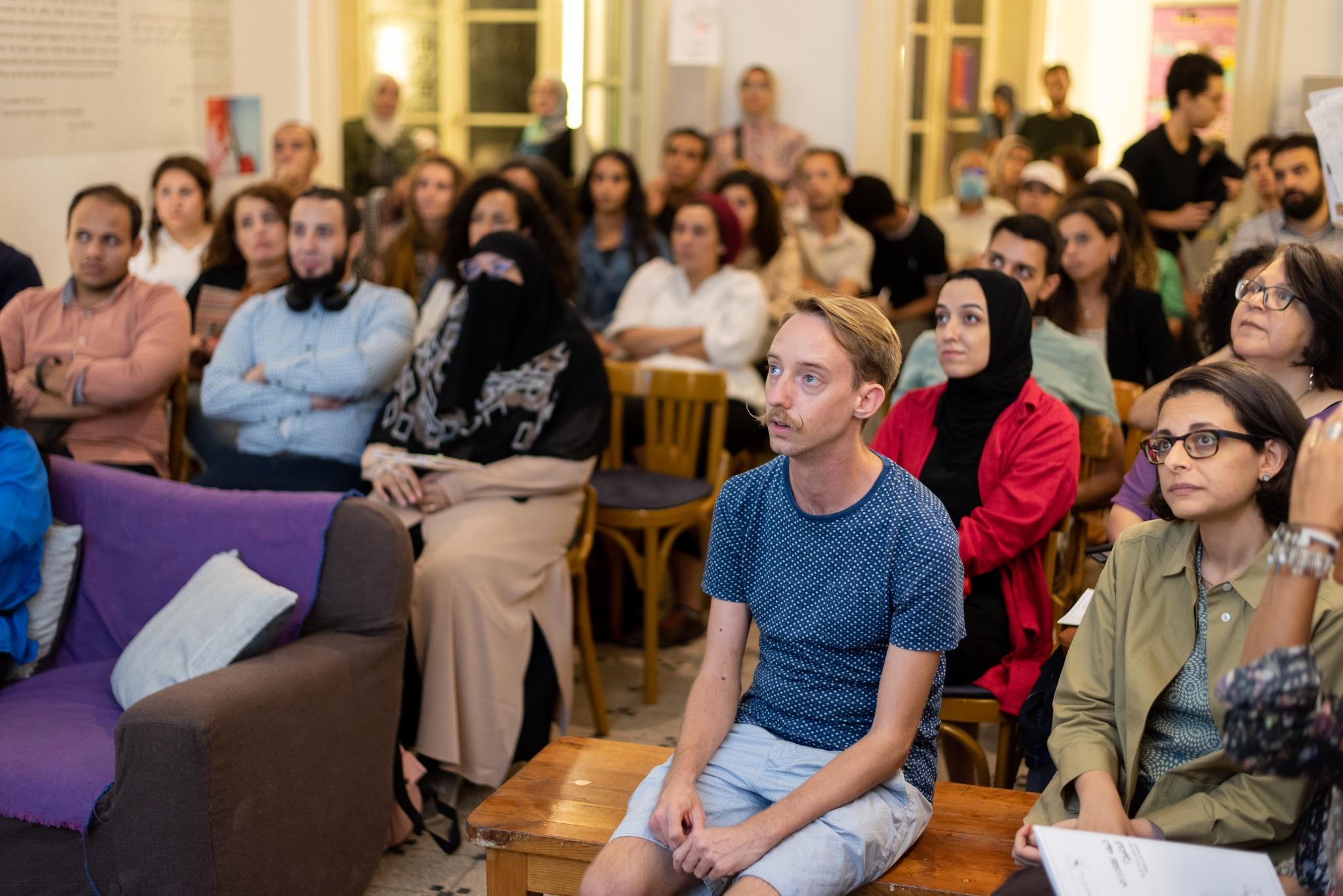 L: Were there new or unexpected ideas and issues that the exhibition and its accompanying interactive panels and tours brought to light? [fig. 6] Inspiration for future exploration?

F: One thing that surprised me was the penchant towards nostalgia. Some people were too quick to confuse an old photograph or letter with a nostalgic artefact. They wouldn't place it in the critical context of the project or the exhibition at large. Even the guestbook, newspaper coverage and social media posts featured the word 'nostalgia' a lot. Nostalgia is very dangerous almost because it inhibits critical thinking. It means people don't push themselves to consider the artefact from more than one perspective. This was especially the case with Hossam's "(A)Normal" [fig. 7] where the letters he used from his family archive were meant to flip certain stereotypes we have of the Gulf. Instead, people decontextualized into the familiar. Farah is going to be unpacking this soon as she analyses the guestbook. I'm looking forward to her insights.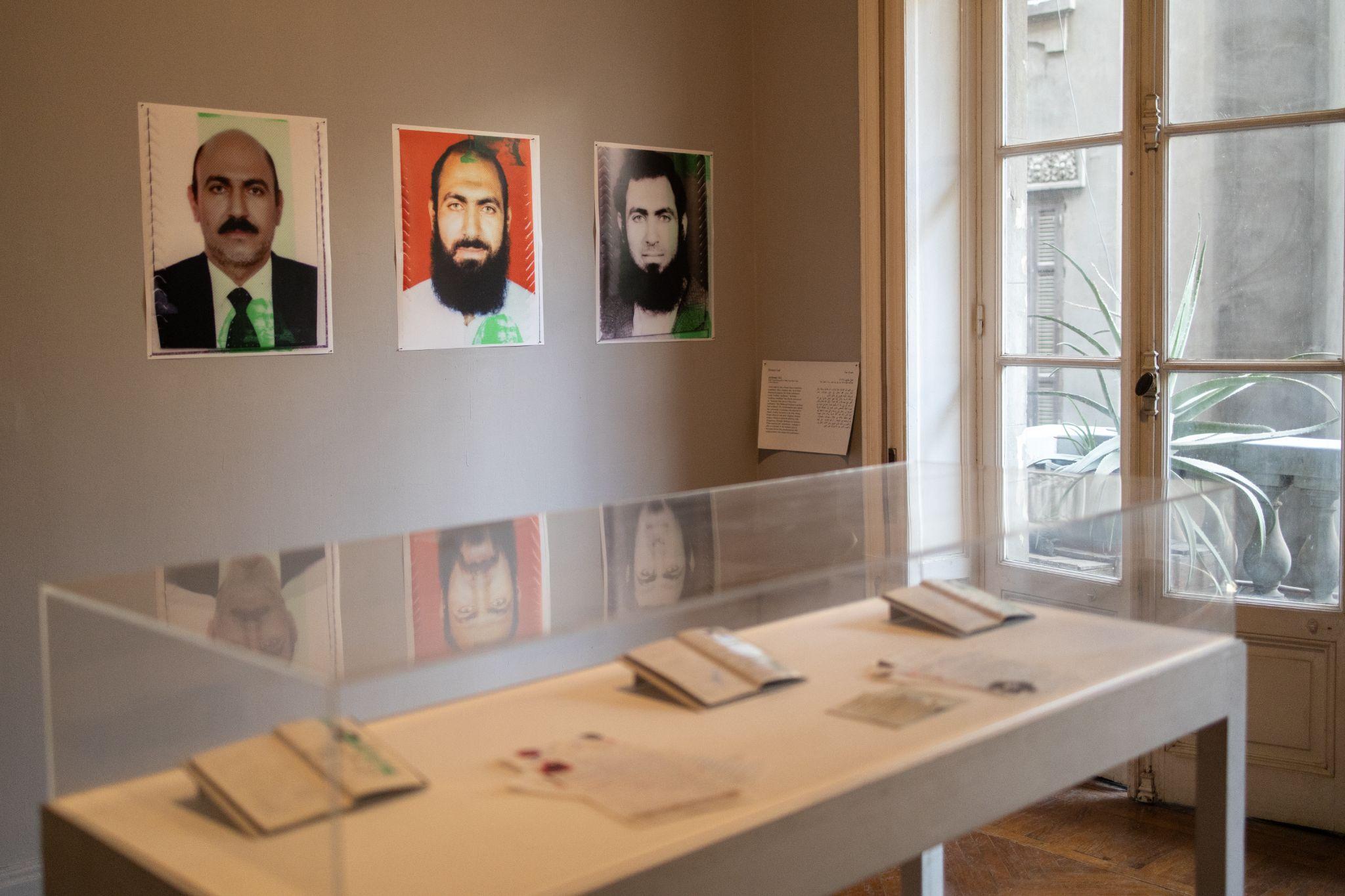 L: How would you describe the current art-exhibition scene in Cairo? Where do you think it is headed?

F: It's definitely becoming more and more vibrant with various people taking on projects very courageously. Some new collectives are coming along, interest in creating new art spaces is also there. With some even on the far outskirts of Cairo! I hope it means that this art scene will become accessible to wider audiences. Given that today a lot of artists use research into their practice, they touch upon topics that we all need to hear about, like the environment or artificial intelligence.

L: How do you see your role as a curator? Do you think curators can play a role in connecting, materializing, and "eliciting" the ideas of non-artists to the general public?

F: For me, an art curator sits in the middle of a triangle composed of the artist, the artwork or artefact and the audience. His role is to reconfigure research into a public-oriented production of knowledge by creating room for the audience to connect with the artwork. That connection comes through the interpretation of the works, the design of the exhibition but also the public programming around it. All in the service of inviting the audience into the world of the artist and the artwork. It's really about creating a dialogue between those three.

L: Who are your favourite Egyptian artists, and why?

F: Menhat Helmy (1925-2004) was a modern artist whose spatial and abstract construction I find very intriguing. She invented a new way of seeing. I also appreciate Adam Henein's (1929-2020) reinvention of sculptural forms. Sculpture seems to be revived in his œuvre, with a relationship to Ancient Egypt, but still room for breakthroughs.

L: What are your future projects?

F: Currently I am working on a writing project to do with stupidity! It's based on a course and workshop that I had developed in the past year. Their aim was to explore critical thinking through stupidity rather than 'intelligence'. It explores philosophical concepts as well as issues in pedagogy and literature to get to the question of thinking. I hope to also turn it into something visual, as I've been inspired by Farah Hallaba to explore this avenue of knowledge production.
Participating artists and their artwork
Nourhan Abd El-Salam, "Place of Birth: Oman"
Sally Abobasha, "Resting There"
Doha Aboelezz, "Same Same Sadiq"
Aya Bendary, "A Carrier"
Mariam Diefallah, "How to Leave the Gulf: Seven Smart Solutions for a Smoother Transition Back Home"
Khaled El-demerdash, "Semsem's Whistle"
Lina El-Shamy, "Deferred Homes and Boxed Objects: From the Gulf to Egypt"
Hossam Gad, "(A)Normal"
Tasneem Gad, "This Memory Does Not Exist"
Eman Magdy, "Play a Little Game for Me"
Omar Mansour, "Working Title"
Nahed Nasr, "Gaddafi's Birthday Cake"
Farida Rady, "Mapping Absent Memory"
Farida Serageldin Kamel, "Not Denying Melancholy"
Azza Solaiman, Zeina Belasy, Khaled Othman, Mohey Eldin Yehia, Ali Zaraay, Ibrahim Mohamed, Yasmina El Kamaly, Nadine El Banhawy, and Tariq Abdallah, "Migration Archive Video"
Photo credits © Ali Zaraay. Figure 3 © Lina El-Shamy. Figure 4 © Farida Youssef.
About the Curator / In 2018, art-critic and curator Farida Youssef was a Merut Fellow at the British Museum in London, UK, contributing to the Modern Egypt Project where she was immersed in the philosophy of archaeology and the history of displaying Egyptian antiquities in the 20th century. Her experience there allowed her to understand how curators are not only caretakers of artwork and artefacts, but produce knowledge in spaces that reach wide audiences: the museum and the gallery. She earned an MA from University College London, UK.
About the Author / Lina El-Shamy is a design anthropologist and mom-of-two. She is a Ph.D. candidate at the University of Toronto where she is researching the neo-rococo domestic salon rooms of contemporary Egyptian homes (el-salon el-modhab). She holds a Bachelor of Design in graphic design from Ontario College of Art and Design University and an MA in art history from the University of Toronto. Lina was born in Alexandria, Egypt, grew up in Jeddah, Saudi Arabia, and immigrated to Canada at age 15; making her life a postmodern jumble of everything her heart desires.
Further reading
Akinci, Idil (2022, Sept. 25). 'Ways to Stick Around': Im/mobility Strategies of Ageing, Temporary Migrants in Dubai. Journal of Ethnic and Migration Studies. https://doi.org/10.1080/1369183X.2022.2115627
Aly, Hassan Y., and Shields, Michael (1996). A Model of Temporary Migration: The Egyptian Case. International Migration, 34: 431-447.
Naga, Noor (2021). Who Writes the Arabian Gulf? The Common: A Modern Sense of Place. Issue 22.
Schielke, Samuli (2020). Migrant Dreams: Egyptian Workers in the Gulf States. Egypt: American University in Cairo Press.
Unnikrishnan, Deepak (2021). Introduction: Portfolio of Writing from the Arabian Gulf. The Common: A Modern Sense of Place. Issue 22.
Vora, Neha (2013). Impossible Citizens: Dubai's Indian Diaspora. United Kingdom: Duke University Press.
Press coverage about the exhibition
In Arabic
In English
In French
Managing editor for this contribution: Laura Bisaillon