THE NEW TOPOGRAPHICS, DARK ECOLOGY, AND THE ENERGY INFRASTRUCTURE OF NATIONS: CONSIDERING AGENCY IN THE PHOTOGRAPHS OF EDWARD BURTYNSKY AND MITCH EPSTEIN FROM A POST-ANARCHIST PERSPECTIVE
Abstract
Edward Burtynsky's aesthetic and the New Topographic aesthetic from which it derives, I argue, should not be seen as apolitical but rather as traces of an empire in ruins and a sociality to come; that is, by employing a post-anarchist analysis, I demonstrate how Burtynsky's photographs in his recent collection Oil, and Mitch Epstein's images from American Power, produce an aesthetic of what Yves Abrioux calls "intensive landscaping," or "landscaping as style, as the promise of a social spacing yet to come" (264). What Burtynsky and Epstein accomplish in their photographs related to energy in particular is "to invent relations, rather than assert ideological or cultural control" (ibid.); the place of energy extraction and transport becomes not a self-contained striation of ecological degradation, but a "place of passage," to use Deleuze and Guattari's terminology, a depiction of wildness and civilization in contact, assembled and reformulating the landscape into something other. The aesthetic under consideration has much in common with Timothy Morton's "dark ecology" and Stephanie LeManager's "feeling ecological," theories that attempt to understand the affective connections between the infrastructure of oil capitalism and ecology ("Petro-Melancholia" 27).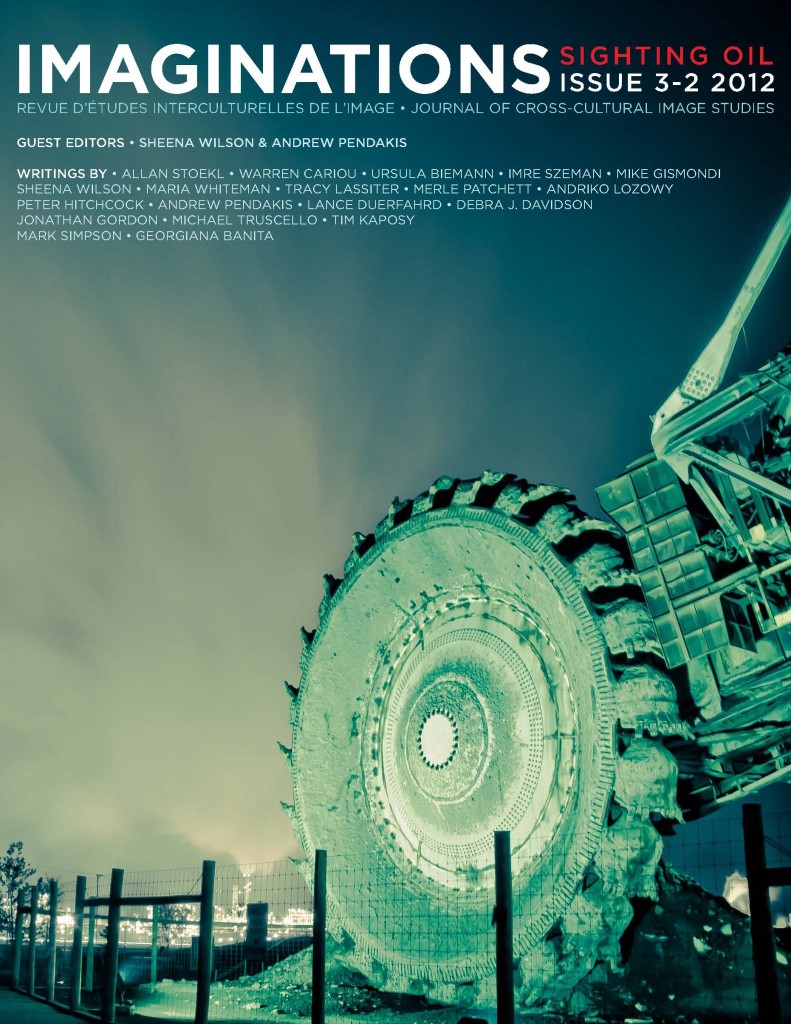 Downloads
How to Cite
Truscello, M. (2012). THE NEW TOPOGRAPHICS, DARK ECOLOGY, AND THE ENERGY INFRASTRUCTURE OF NATIONS: CONSIDERING AGENCY IN THE PHOTOGRAPHS OF EDWARD BURTYNSKY AND MITCH EPSTEIN FROM A POST-ANARCHIST PERSPECTIVE. Imaginations: Journal of Cross-Cultural Image Studies, 3(2), 188–205. Retrieved from https://imaginationsjournal.ca/index.php/imaginations/article/view/27253
License
This work by
https://journals.library.ualberta.ca/imaginations
is licensed under a  
Creative Commons 4.0 International License
 although certain works referenced herein may be separately licensed, or the author has exercised their right to fair dealing under the Canadian Copyright Act.