Gender and Migration: Resisting with a Camera. A Researcher to Researcher Experience
Abstract
This manuscript is a reflexive collaboration between two differently situated researchers. It meets at the crossroad of knowledge and visual activism at three levels: it uses a case study to analyze the possibilities of photovoice as a form of resistance against narratives of hate; it reflects on the ways in which the observed and the observer cooperate to construct from their own perspectives a legitimized knowledge aiming to promote visibility and social transformation; finally, it revises whether photovoice may become a form of visual activism and, if so, the ways in which images may be used toward this goal. Using as a point of departure the work of the photographer Diane Arbus and a photovoice project on being a migrant woman in Spain, the authors elaborate on the power of images to work at the margins, from the margins, and for the margins.
References
Arbus, Diane. Diane Arbus: An Aperture Monograph. New York: Aperture Foundation, 1972.
Bal, Mieke. Analyzing Visual Data. Thousand Oaks, CA: Sage, 1992.
Bal, Mieke. Double Exposures: The Subject of Cultural Analysis. New York: Routledge, 1996.
Barrett, Deborah. "Photo-Documenting the Needle Exchange: Methods and Ethics." Visual Studies, vol. 19 no.v2, 2004, pp. 145-149. DOI: 10.1080/1472586042000301647.
Bosworth, Patricia. Diane Arbus: A biography. New York: W.W. Norton, 2005.
Cabañes, Jason Vincent A. "Migrant Narratives as Photo Stories: on the Properties of Photography and the Mediation of Migrant Voices." Visual Studies, vol. 32 no. 1, 2017, pp. 33-46. DOI: 10.1080/1472586X.2016.1245114.
Chalfen, Richard, Shelman Laura, and Rich, Michael. "VIA's Visual Voices: The Awareness of a Dedicated Audience for Voices in Patient Video Narratives." Visual Studies, vol. 25 no. 3, pp. 201-209.
Dreher, Tranja. "Listening across Difference: Media and Multiculturalism Beyond the Politics of Voice." Continuum, vol. 23, no. 4, pp. 445-458. DOI: (10.1080/10304310903015712)[https://doi.org/10.1080/10304310903015712].
Edenborg, Emil. "Saving Women and Bordering Europe: Narratives of 'Migrants' Sexual Violence' and Geopolitical Imaginaries in Russia and Sweden. Geopolitics, vol. 25, 2018, pp. 1-22. DOI: (10.1080/14650045.2018.1465045)[https://doi.org/10.1080/14650045.2018.1465045].
Fairey, Tiffany. "Whose Photo? Whose Voice? Who Listens? 'Giving,' Silencing and Listening to Voice in Participatory Visual Projects." Visual Studies, vol. 33, no. 2, 2018, pp. 111-126. DOI: 10.1080/1472586X.2017.1389301.
Gemignani, Marco. "Between Researcher and Researched: An Introduction to Countertransference in Qualitative Inquiry." Qualitative Inquiry, vol. 17, no. 8, 2011, pp. 701-708. DOI:10.1177/1077800411415501.
Gemignani, Marco and Hernández-Albújar, Yolanda. "Critical Reflexivity and Intersectionality in Human Rights: Toward Relational and Process-Based Conceptualizations and Practices in Psychology." European Psychologist, vol. 24, no. 2, 2019, pp. 136-145.
Grady, John. "Advertising Images as Social Indicators: Depictions of Blacks in LIFE Magazine, 1936–2000." Visual Studies, vol. 22, no. 3, 2007, pp. 211-239. DOI: 10.1080/14725860701657134.
Gross, Frederick. Diane Arbus's 1960s: Auguries of Experience. Minneapolis: University of Minnesota Press, 2012.
Hooks, Bell. "Choosing the Margins as a Space of Radical Openness." Framework: The Journal of Cinema and Media, vol. 36, 1989, pp. 15-23, http://www.jstor.org/stable/44111660.
Kihato, Caroline W. "Now You See Me Now You Don't: Methodologies and Methods of the Interstices." Gender and Migration, edited by Ingrid Palmary, et al., Zed Books, 2010, pp. 141-162.
Liebenberg, Linda. "Thinking Critically About Photovoice: Achieving Empowerment and Social Change." International Journal of Qualitative Methods, vol. 17, no. 1, 2018.
Lubow, Lubow. "Arbus Reconsidered." 14 September 2003. https://www.nytimes.com/2003/09/14/magazine/arbus-reconsidered.html
Mirzoeff, Nicholas. How to See the World. London, UK: Penguin, 2015.
Nos Aldás, Eloísa.. "Activism, Transmedia Storytelling and Empowerment." New Media Politics: Rethinking Activism and National Security in Cyberspace. Cambridge Scholars Publishing, 2015.
Nykiforuk, Candace I J, Helen Vallianatos, and Laura M Nieuwendyk. 2011. "Photovoice as a Method for Revealing Community Perceptions of the Built and Social Environment." International Journal of Qualitative Methods, 10(2): 103-124.
Pauwels, Luc. "Participatory Visual Research Revisited: A Critical-constructive Assessment of Epistemological, Methodological and Social Activist Tenets." Ethnography, vol. 16, no. 1, 2015, pp. 95-117.
Perkins, D.D. and Zimmerman, M.A. Empowerment Theory, Research, and Application. American Journal of Community Psychology, vol. 23, 1995, pp. 569–579. https://doi.org/10.1007/BF02506982.
Szörényi, Anna. "The Images Speak for Themselves? Reading Refugee Coffee‐table Books." Visual Studies, vol. 21, no. 1, 2006, pp. 24-41. DOI: 10.1080/14725860600613188.
van Dijk, T. A. "Discourse and the Denial of Racism." Discourse & Society, vol. 3, no. 1, 1992, pp. 87-118.
Wang, Caroline. "Photovoice: A Participatory Action Research Strategy Applied to Women's Health." Journal of Women's Health, vol. 8, 1997, pp. 185-192.
Wang, Caroline, and Burris, Mary Ann. "Empowerment through Photo Novella: Portraits of Participation." Health Education Quarterly, vol. 21, 1994, pp. 171-186.
Wang, Caroline, and Burris, Mary Ann. "Photovoice: Concept, Methodology, and Use for Participatory Needs Assessment." Health Education and Behavior, vol. 24, 1997, pp. 369-387.
Wayne A. Cornelius. "Controlling 'Unwanted' Immigration: Lessons from the United States, 1993–2004." Journal of Ethnic and Migration Studies, vol. 31, no. 4, 2005, pp. 775-794.
Wright, Terence. "Moving Images: The media Representation of Refugees." Visual Studies, vol. 17, no. 1, 2002, pp. 53-66. DOI: 10.1080/1472586022000005053.
Yáñez-Urbina, Cristopher, Figueroa-Céspedes, Ignacio, Soto, Jorge, and Happke, Bruna. "La Voz en la Mirada: Fotovoz una Metodología para Explorar los Procesos de Inclusión-exclusión desde la Perspectiva de los Estudiantes." Pensamiento Educativo: Revista de Investigación Educacional Latinoamericana, vol. 55, 2018. DOI: 10.7764/PEL.55.2.2018.4.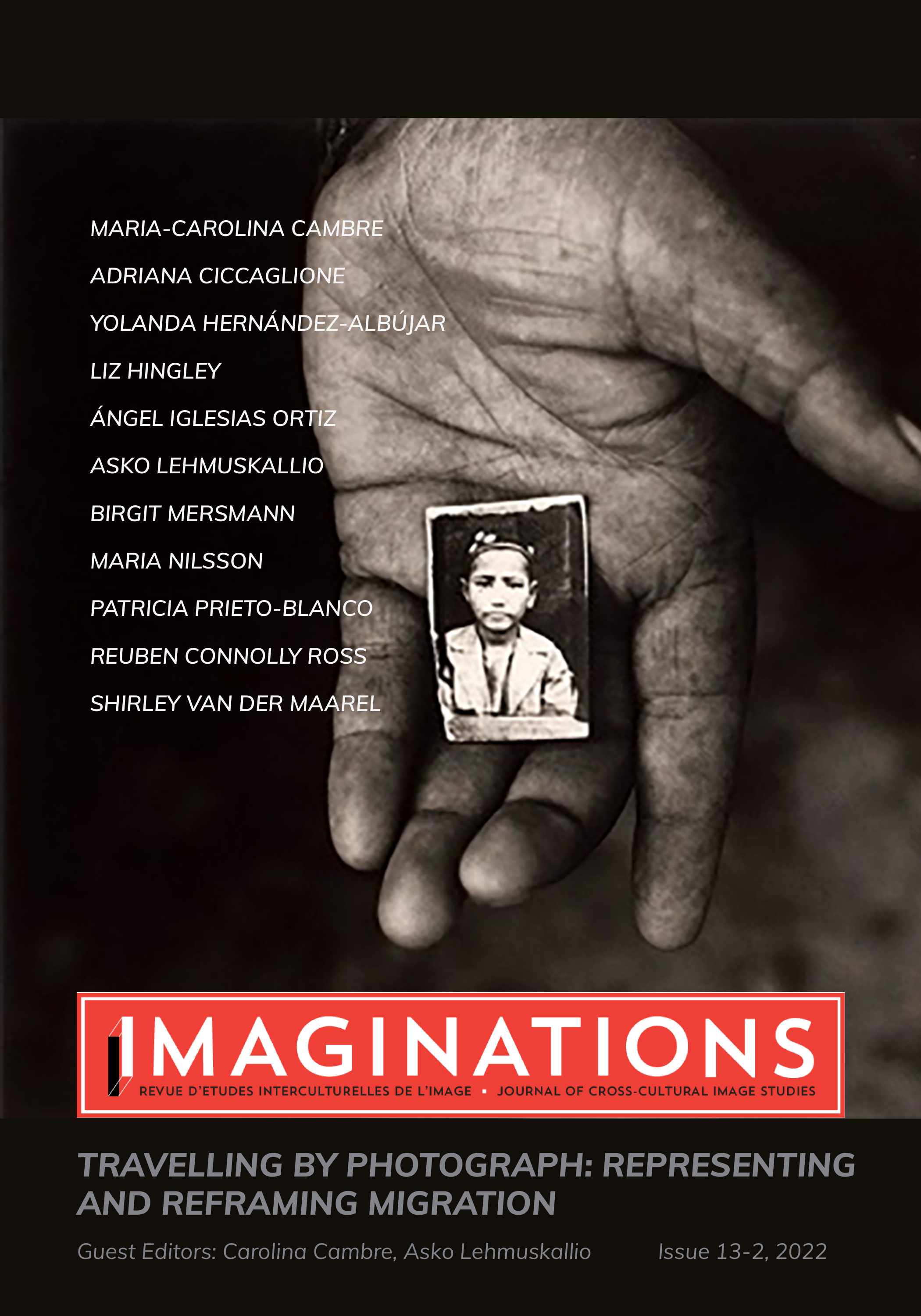 Downloads
How to Cite
Hernández-Albújar, Y., & Ciccaglione, A. (2022). Gender and Migration: Resisting with a Camera. A Researcher to Researcher Experience. Imaginations: Journal of Cross-Cultural Image Studies, 13(2), 79–103. https://doi.org/10.17742/IMAGE.TP.13.2.4
License
Copyright (c) 2022 Yolanda Hernández-Albújar, Adriana Ciccaglione
This work is licensed under a Creative Commons Attribution-NonCommercial-NoDerivatives 4.0 International License.
This work by
https://journals.library.ualberta.ca/imaginations
is licensed under a  
Creative Commons 4.0 International License
 although certain works referenced herein may be separately licensed, or the author has exercised their right to fair dealing under the Canadian Copyright Act.