Guided Into a World Unknown: Reflections on the Making of a Visual Essay With Refugees
Abstract
The constant presence of refugees in the media has constructed its own reality, at the expense of lived reality. Any work concerned with refugees' lived experience will need to find ways to encourage people to see beyond this discourse. Based on research with refugees placed in depopulating villages in Italy, this article follows the process of collaboratively creating a visual essay that reflects the lived reality of refugee participants. The essay's aim is to let readers share in an experience, rather than merely documenting that of others. This article reflects on efforts to achieve this through experimenting with the essay's form, poetics and aesthetics. In doing so, the article discusses an alternative way of communicating research and presenting a visual essay.
References
Ahmed, Sara. Queer Phenomenology: Orientations, Objects, Others. Duke University Press, 2006.
Barthes, Roland. Image Music Text. Fontana Press, 1977.
Chen, Nancy N. "Speaking Nearby." Visual Anthropology Review, vol. 8, no. 1, 1992, pp. 82–91.
Feld, Steven, and Donald Brenneis. "Doing Anthropology in Sound." American Ethnologist, vol. 31, no. 4, 2004, pp. 461–74, https://doi.org/10.1525/ae.2004.31.4.461.
Goodman, Nelson. Ways of Worldmaking. Hackett Publishing Company, 1988.
Ingold, Tim. "Epilogue: Towards a Politics of Dwelling." Conservation and Society, 2005, pp. 501–08.
Irving, Andrew. The Art of Life and Death: Radical Aestetics and Ethnographic Practice. Hau Books, 2017.
Krzyzanowski, Michal, et al. "The Mediatization and the Politicization of the 'Refugee Crisis' in Europe." Journal of Immigrant & Refugee Studies, vol. 16, no. 1–2, 2018, pp. 1–14.
Lems, Annika. Being-Here: Placemaking in a World of Movement. Berghahn Books, 2018.
Pauwels, Luc. "World Cities Reframed: A Visual Take on Globalization." Visual Communication, vol. 13, no. 3, 2014, pp. 389–402, https://doi.org/10.1177/1470357214530069.
Strömbäck, Jesper. "Four Phases of Mediatization: An Analysis of the Mediatization of Politics." The International Journal of Press/Politics, vol. 13, no. 3, 2008, pp. 228–46.
Sutherland, Patrick. "The Photo Essay." Visual Anthropology Review, vol. 32, no. 2, 2016, pp. 115–21.
Tsing, Anna. The Mushroom at the End of the World: On the Possibility of Life in Capitalist Ruins. Princeton University Press, 2015.
Tuckett, Anna. Rules, Paper, Status: Migrants and Precarious Bureaucracy in Contemporary Italy. Stanford University Press, 2018.
van der Maarel, Shirley. "In Search of the Unknown. The Visual Essay as a Method of Exploration, Through an Artistic and Participatory Process." Anthrovision, vol. 8, no. 1, 2020.
van der Velden, Marieke. "A Monday in Kabul." [Photography Documentary], 2014.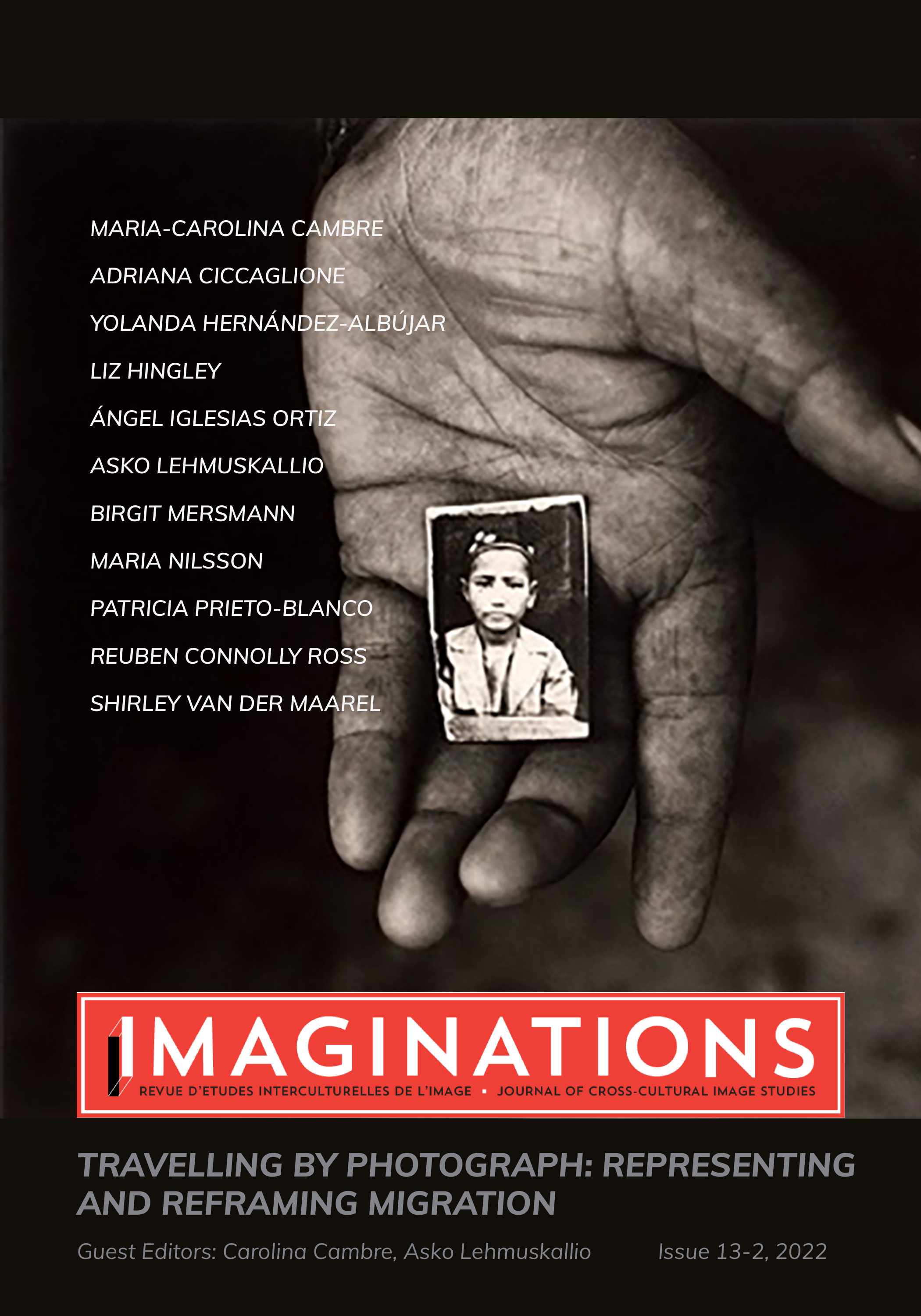 Downloads
How to Cite
van der Maarel, S. (2022). Guided Into a World Unknown: Reflections on the Making of a Visual Essay With Refugees. Imaginations: Journal of Cross-Cultural Image Studies, 13(2), 207–226. https://doi.org/10.17742/IMAGE.TP.13.2.9
License
Copyright (c) 2022 Shirley van der Maarel
This work is licensed under a Creative Commons Attribution-NonCommercial-NoDerivatives 4.0 International License.
This work by
https://journals.library.ualberta.ca/imaginations
is licensed under a  
Creative Commons 4.0 International License
 although certain works referenced herein may be separately licensed, or the author has exercised their right to fair dealing under the Canadian Copyright Act.