The Designscapes of Harley Parker: Print and Built Environments
Keywords:
Harley Parker, McLuhan, design, typography
Abstract
In this paper I present two views of Harley Parker, Marshall McLuhan's longstanding collaborator. In the first I underline how Parker's training in the arts as a typographic designer was put to work on the print projects for which he is best known, namely, on the original series of Explorations. I debate the claim that his work on Explorations 8 was not his own, and in this phase of argument I draw upon the legacy of other notable designers working in Toronto, namely, Allan R. Fleming of Cooper & Beatty Inc., the developers and promoters of Flexitype. Second, I resituate Parker's link to installation and performance art in Canada by following the line established by his eldest son Blake Parker as resident poet of the experimental electronic band Intersystems, whose activities in 1967-68 included installations and performances at Perception 67 on the University of Toronto campus. The Mind Excursion psychedelic maze had its debut a few weeks after Harley Parker's Hall of Fossils opened at the Royal Ontario Museum and marks the group's origin proper. The connection between father and son is explored through the influences of elder Parker's artistic proclivities as a painter, typographer, exhibition designer, critic, his collaborations with Marshall McLuhan, and the blend of McLuhan's ideas, psychedelia, and kinetic art that animated Intersystems.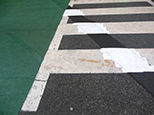 Downloads
How to Cite
Genosko, G. (2018). The Designscapes of Harley Parker: Print and Built Environments. Imaginations: Journal of Cross-Cultural Image Studies, 8(3), 153–164. https://doi.org/10.17742/IMAGE.MA.8.3.11
License
This work by
https://journals.library.ualberta.ca/imaginations
is licensed under a  
Creative Commons 4.0 International License
 although certain works referenced herein may be separately licensed, or the author has exercised their right to fair dealing under the Canadian Copyright Act.